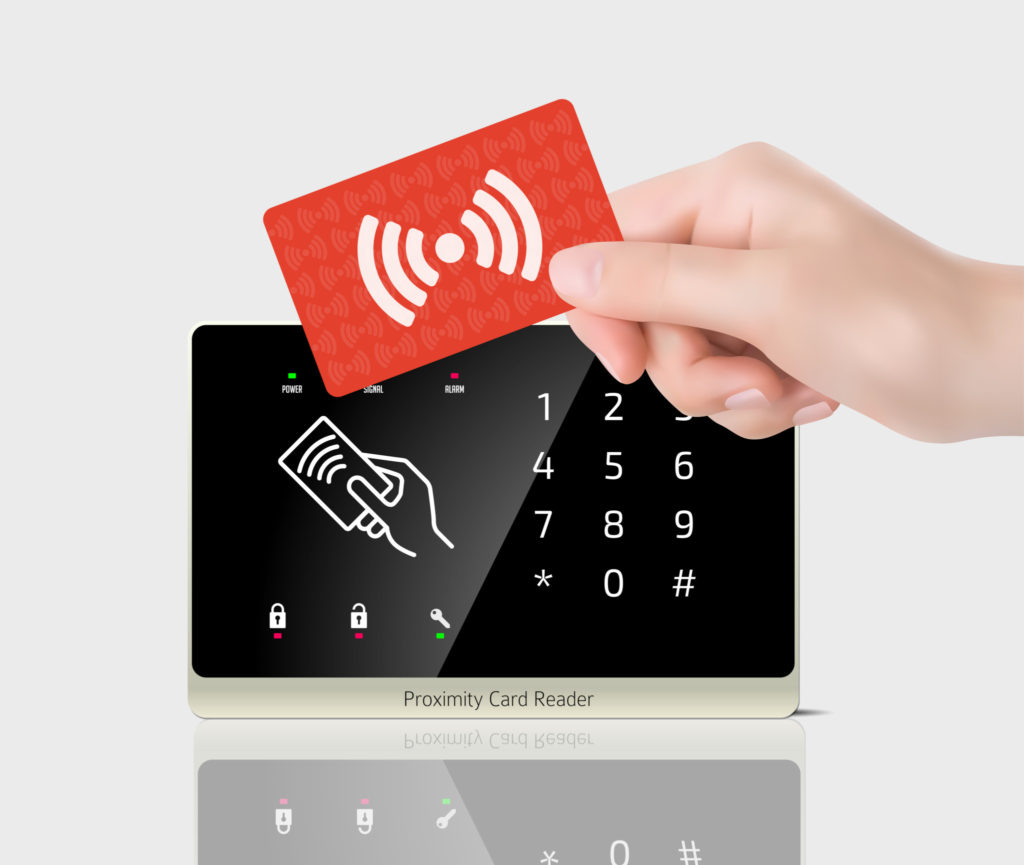 RFID is an abbreviation for Radio Frequency Identification. An RFID digital door lock is one of the best automated door lock systems that you can acquire at Digital Door Lock Singapore.  The technology used in the design of this digital door lock system ensures communication between small computer chips and RFID readers to facilitate the locking and opening of the door. Although it has not been in the market for a long time, RFID digital door locks are becoming very popular today, mainly because of their efficiency and reliability in controlling accessibility to homes and businesses.
Our company offers diverse models of RFID digital door locks that you can choose from for all kinds of buildings. With this type of digital door lock, you do not need to carry keys around since the entire system is automated. This not only makes it more convenient but also very safe for access control. Besides, RFID door locks are also quite economical since they require very little maintenance.
Features of RFID Digital Door Lock and How it Works
An automated RFID door lock is a great way to enhance the security in your business and residence. And, this is because of the myriad of features that it is designed with. Although this door lock shares quite a wide range of features with other keyless door locks, there are certain unique aspects that you should know in order to determine if it really is the perfect choice for your property.
A Radio Frequency Identification card digital door lock is built with a small micro-chip and induction loop, which is accessible to the card reader's transmitter. Unlike other conventional keycard door locks, an RFID digital door lock does not require one to remove the keycard from the pocket or wallet. The system is so powerful it can easily read the card even from a distance for successful RFID authentication.  And, this even makes it hard for a third party to know how your door lock system operates.
An RFID digital door lock system is made up of different components. However, the three main components are the door lock, card reader and keycard. The lock is mounted on the door while the card reader can be installed behind a wall or any other area close to the door, where you can easily access it whenever you want to go in or exit the house. The card reader is a like a scanner that will read and verify the information on the keycard. However, there are also some models of automated RFID door locks with readers that have in-built keypads for use in programming the system.
Setting up the digital door lock is easy, and we can always do it right on location after installation. Some systems require separate programming but, the ones that we deal in can easily be programmed through the reader. The door lock can be linked to your PC, tablet or laptop to enable you monitor the traffic through your doors. Depending on your needs and budget, the door lock can either be installed in one or more doors. In all these circumstances, you can still be able to monitor who goes in and out of the building.
There are occasions whereby you may not be the only person using the building. As such, you can opt for a number of keycards. However, it should be noted that all the keycards must be programmed with the system in order to operate the door lock. An RFID digital door lock can operate with up to 500 or more keycards. Since the cards are sold separately, you can buy any number of cards that you need for efficient access control.
After the lock is fully set up and programmed, you will only need the card with you in order to access the door. Remember all the keycards bear information about their holders, which is also fed into the door lock system. Whenever you need to access the door, the reader will have to first scan and verify the information on the card and, only allow access if the information is right. In case of a wrong card, the door lock will give an alert and fail to work.
Similar to other automated keyless door locks, RFID digital door lock also requires power in order to operate. The system uses 6V DC, which is channeled through a pack of 4 AA batteries. With these, you are able to operate the door for up to 20,000 times without replacement, which is very economical in terms of power consumption. The door lock also has an alert system that will notify you in case of low power supply.
The sleek design of the RFID digital door lock is another aspect that can go a long way in adding a stylish appeal to your condo or office.
Application of RFID Keyless Digital Door Lock
RFID digital door lock has a wide range of applications owing to its efficiency and reliability in securing buildings. This type of digital door lock is mainly suitable for residential property, offices, departments, hospitals, learning institutions among other areas with little or moderate traffic. Considering the delicate nature of this system's components like, card reader, it is always advisable to use it indoors or areas where it is not exposed to vandalism.
Where to Get the Best Deal on RFID Digital Door Lock
RFID digital door lock is an ideal way to improve security and convenience in accessing your premises. But, you can only enjoy these benefits when you have the best quality door lock and the installation is done right. Digital Door Lock Singapore is the ultimate partner that you can always rely on for a high quality RFID digital door lock and installation services.
We have a selection of top notch RFID digital door locks, which you can always acquire more affordably at your own convenience. Besides, our technicians are also ready to offer you professional and customized RFID digital door lock installation services for a complete fix.
For the best deal on RFID digital door locks and installation services Singapore, do not hesitate to get in touch with us.