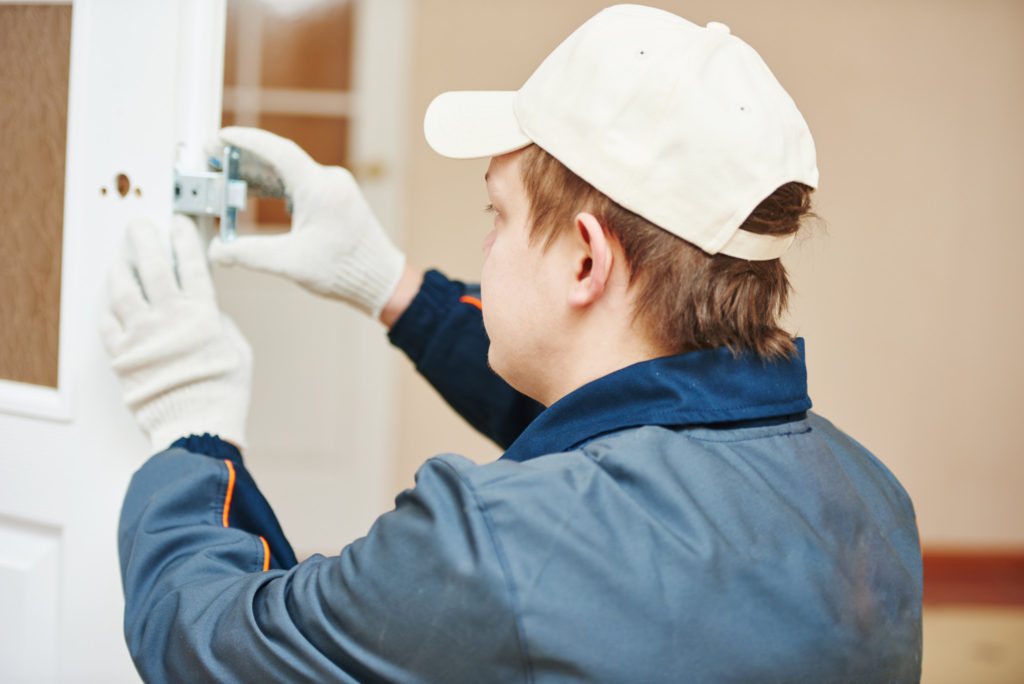 A Biometric digital door lock mainly uses biological characteristics like, fingerprints to control accessibility to buildings. However, some models also have provisions for both biometrics and mechanical key authentication. A Biometric Fingerprint digital door lock system is made up of various components that all work together to facilitate its smooth operation. And, all these components have to be properly installed and set up to ensure the efficiency and safety of the door lock. That is why you should always leave the task to our experts.
We understand the diversity in Biometric Digital door lock systems, and have unique installation procedures and tools to ensure that every task is done to perfection. Our technicians are well trained on how to handle installations for various models of Biometric digital door locks on both wooden and metallic doors. Thus, there is always an assurance that your project will be handled right just the way you want it.
Before we begin the installation procedures, our technicians will first visit you to conduct an inspection of the areas where the locks will be installed. With this, we will prepare a free quotation detailing all the requirements for the job including, cost. In this way, you can always know what to expect even before we begin the task. We prepare quotations in consultation with clients to ensure that you get the best services tailored to your specific needs and budget.
How We Handle Biometric Digital Door Lock System Installation<
Biometric Fingerprint digital door lock system is based on a unique technology, which is exhibited in the features and components. Therefore, our technicians will first inspect all the components to make sure that they are included and also in good shape. By making sure that all the components of the system are in place before installation, we are able to avoid a series of problems like, malfunction of parts.
The key components of this device include the main locking system, fingerprint optical sensor and keypad or touchscreen pad. These parts are usually integrated into the system and, are not to be installed separately. However, our technicians will need to open the entire system when doing the installation to make sure that every component is fixed into its right place. During this process, we will also check the cabling of the system's internal structure including, the circuit boards.
Our technicians will then take the measurements of the lock and the door in order to know where to exactly mount it. Besides, we will also punch holes on the door frame to create space where the deadbolt locks will be fixed so as to control access. The dock lock has internal and external mounting plates, which are placed on the inside and outside surfaces of the door respectively. However, both are linked by wires to coordinate the operation of various components of the door lock system.
After mounting both the internal and external plates, we will ensure that they are well linked to each other and fastened using bolts. The system usually has four deadbolts for holding the two plates together, which we will properly fasten until they are well-aligned to the door. We have the most efficient tools to make sure that the process is conducted safely without damaging any component of the system.
Final Inspections and Testing
Before we begin testing your Biometric Fingerprint digital door lock, our technicians will conduct a proper inspection of the entire system just to make sure that each part is in its right place. During this procedure, we will look into how the plates are fixed, the connection of the system to the batteries, alignment of the deadbolts among others. We do this to ensure that nothing is left hanging since such could compromise the smooth operation of the door lock.
This automated door lock is based on biometric authentication, which is mainly done through fingerprints that must be registered into the system during set up. Therefore, our experts will also help you with programming the system to your fingerprints or others that you may prefer to use. In case you intend to share the door with other people, it is advisable that you also provide their fingerprints during the set up. However, some Biometric digital door locks can also provide for number codes and mechanical key access.
After programming the system, we will then conduct trials to make sure that the system is properly working. In case the system is experiencing any hitch after installation and programming, our technicians will be able to effectively diagnose and fix it. Considering a Biometric digital door lock can also use mechanical keys and other authentication methods, we will also test those functions. Remember mechanical key access is mainly included for emergency cases like, when there is no power and also in a situation whereby the keyless access function is compromised.
Our services usually extend to also offering customers professional advice on how to operate the system, conduct simple maintenance and also fix common problems that could be experienced when using it. The main goal is to see to it that you are able to get the best experience with the Biometric digital door lock in terms of enhanced security and convenience. In case you may have any concerns about the door lock system, our experts will also be able to effectively address them on location.
Benefits of Hiring our Biometric Door Lock Installation Services
Opting to install a Biometric fingerprint digital door lock on your own is not a good move. This is mainly because, it requires expertise and could also take quite a lot of your time. Digital Door Lock Singapore has an adequate team of professionals that can easily do the task to perfection within the shortest time. By hiring us for Biometric digital door lock installation services, you are guaranteed the following;
Professional services tailored to your specific needs
Unrivaled reliability in service delivery
The best workmanship in both homes and businesses
The most competitive rates in the market
Instead of worrying about who can deliver the best Biometric digital door installation services in Singapore, simply talk to us for the ultimate solutions. We offer the best quality products and installation services to effortlessly improve security while also giving you the power to control access to your residence or business.